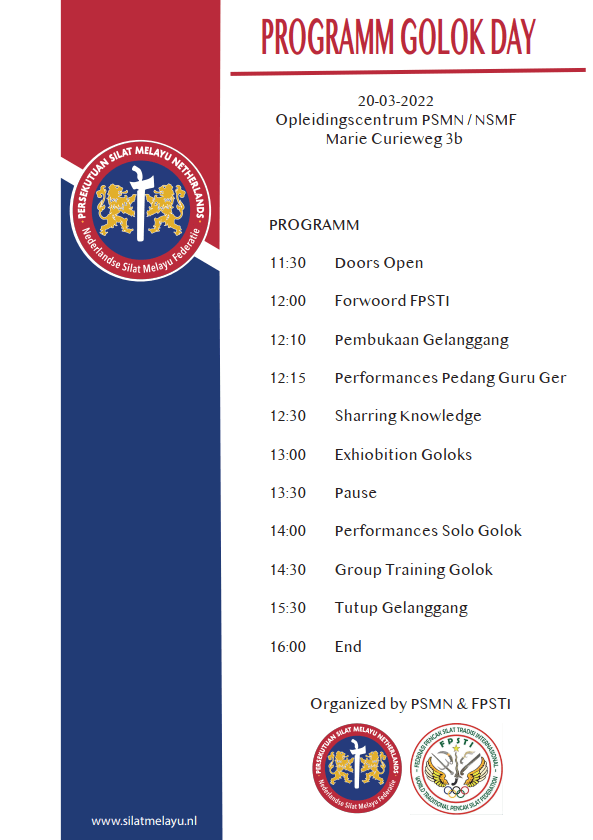 The Golok Day 2022 took place in Roermond on March 20th, 2022. It was an event dedicated to the sharing of knowledge and performances around the traditional weapon: Golok. It was organized on the initiative of both Persekutuan Silat Melayu The Netherlands (PSMN) and World Traditional Pencak Silat Federation (WTPSF/FPSTI) invitations were sent to several Silat organizations in The Netherlands.
On the D-Day, there were participants from:
Seni Silat Satria Pusaka
Silat Melayu Keris Lok 9
Seni Silat Gayung Fatani
Silat Kuda Kuningan
Kuntao Humphrey Benton
PSHT Sevenum
Beksi Lie Tjeng Hok
Seni Pertahanan Diri
Pencak Silat Pecutan
We also had the pleasure to have Mr Eric Bovenlander and his wife Tatie with us.
The day was officially opened by Guru Audran of Seni Gayung Fatani Malaysia from France. After that there were several performances by different Guru and Jurulatih. There was a harmonious and friendly atmosphere where traditional silat was given a nice platform. There was a beautiful unarmed choreography by Mr. Ronnie Lerrick for inspiration.
At the end of the day there was a cosy get-together while enjoying a delicious piece of Limburg flan with coffee & tea. It was a small-scale event to serve as a pilot. Thanks to the board of the PSMN who made this day possible.
---