History
---
The Silat Seni Gayung Fatani Malaysia is one of the oldest style of Silat originated from the north of the malay peninsular.
Its roots goes back to the ancient malay kingdom of Pattani (15th> to 18th century). After the kingdom of Siam conquered Pattani the malay had to flee south. This is how Gayung Fatani has reached the state of Kedah in 1840 by Syeikh Abdul Rahman.
At that time, Seni Gayung Fatani was known as « Gayung Patani » ou « Silat Pulut ». The « Fatani » denomination was used for the first time when the Pertubuhan Seni Gayung Fatani Malaysia was created in 1976 by the late Cikgu Haji Anuar bin Haji Abdul Wahab AMN (1945-2009). It is a clever mix between the name of the Pattani province (in malay the letter F can sometime be pronounced as a P) the arabic word Fatonah which means « intelligent/clever ».
Therfore, Seni Gayung Fatani can be translated as « the art of clever fighting ».
Logo
---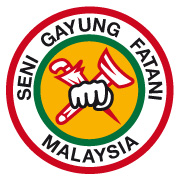 Form and design
The fist symbolizes determination and inner strenght. The Keris and its sarong symbolize both war and peace. The round form symbolizes unity and cooperation.
Colors
The red color symbolizes courage. Green is the color of Islam. The yellow color symbolizes the malays kingdom.
Teaching
---
Since 2002, the Seni Gayung Fatani syllabus for pesilat is composed of seven levels marked by seven belt colors: white, blue, brown, yellow, green, red and black.
Each of the levels above is composed of seven parts:
Bunga
Jurus
Tapak
Belebat
Buah Pukulan
Tempur Seni
Tempur Beladiri
And all of these seven parts are all based on the Bunga which is also composed of seen steps, seven positions and seven hand movements.
After the black come the teaching and use of weapons such as keris, kerambit, sabit, golok, parang, pedang, etc.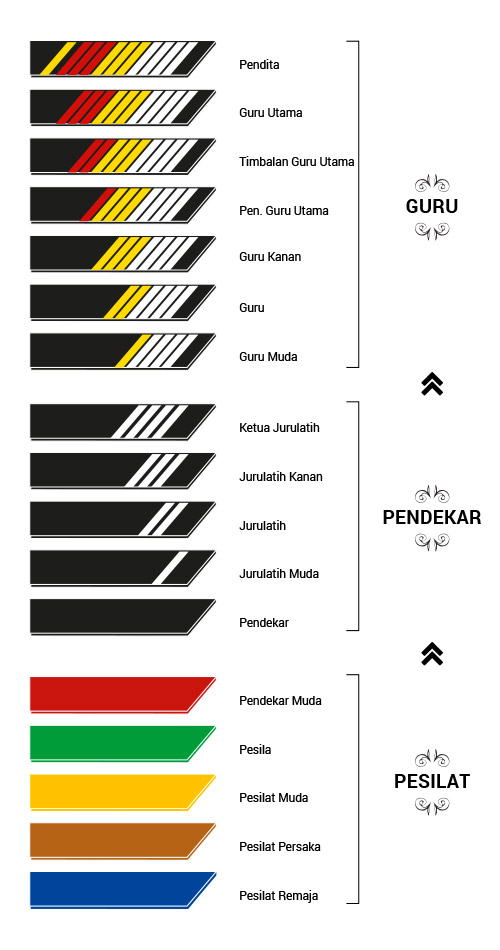 If you wish to learn more about Seni Gayung Fatani Malaysia, feel free to check Culture Silat's website (french).